CBAS does not manufacture or distribute products; we provide descriptions of these products and information about their availability in this section. CBAS does not provide medical advice and we encourage you to speak with your health care provider about which methods are right for you.
Internal/female condoms are a safe and effective receptive partner-initiated option for both contraception and HIV/STI prevention. Internal/female condoms are a barrier device designed to protect the cervix, vagina, and part of the vulva and perineum. It is highly acceptable to some women and men, and offers good protection against both HIV and other STIs.
Cupid Female Condom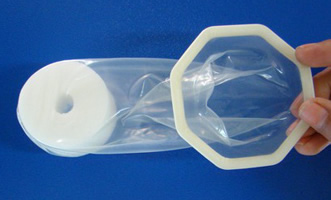 Cupid Limited, India
The Cupid internal/female condom is made from natural latex rubber and contains a polyurethane foam internal retainer and an octagon-shaped outer ring. The Cupid has received the CE Mark, WHO/UNFPA prequalification, and approval by the India Drug Control Authority and Brazil regulatory authority (ANVISA). It is currently available in India, Brazil, Indonesia, South Africa, and Mozambique.
FC2 Female Condom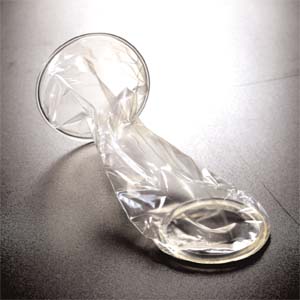 Female Health Company
FC2, the second generation internal/female condom from the Female Health Company, was developed to replace FC1 with a lower cost product that would provide the same safety and efficacy during use. FC2's sheath is made from a nitrile polymer, which is soft, smooth and quickly warms to body temperature. The new material results in a less expensive manufacturing process and a more affordable product. FC2 has an inner ring that aids insertion and helps to secure the device in place during intercourse and a softer outer ring that remains outside the woman's body, giving her extra protection. FC2 is inserted prior to sexual intercourse to provide protection against HIV/AIDS, other STIs and unintended pregnancies. It is available in the United States and in over 100 countries throughout the world.
Woman's Condom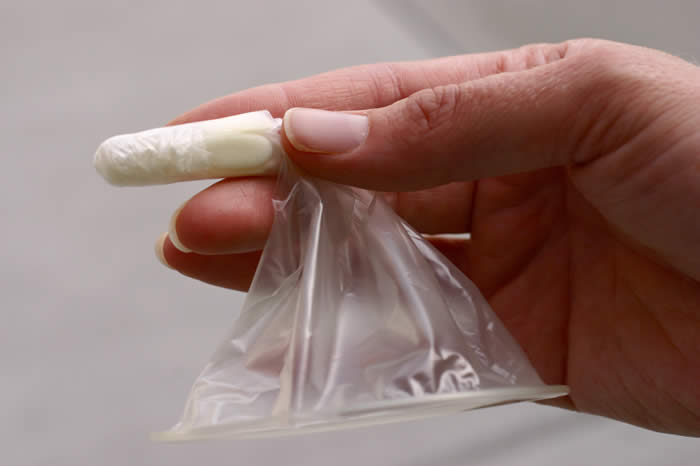 Shanghai Dahua Medical Apparatus Company, Ltd., China
The Woman's Condom was developed by the Program for Appropriate Technology in Health (PATH), and is manufactured by the Shanghai Medical Apparatus Company, Ltd. It features a polyurethane pouch, dissolving capsule for insertion, and foam shapes for stability, and is co-packaged with a sachet of water based lubricant. It has received the CE Mark, Shanghai Food and Drug Administration Approval, and the South Africa SABS certification mark, as well as WHO prequalification status. It is available in China, Europe, Malawi, South Africa, and Zambia.
Other internal/female condom products are currently being developed, but none of these have been approved for use as either contraceptives or HIV/STIs prevention methods.